Save Time With Curbside Express From Giant Eagle + Banana Yogurt Face Mask Recipe

This post may contain affiliate links.
This shop has been compensated by Collective Bias, Inc. and its advertiser. All opinions are mine alone. #CurbsideConvenience #CollectiveBias
We started homeschooling last week, which means that my son's autism therapy also started. My oldest is starting college, so I need to take him to the college twice a week until he gets his license. Between working, school, and the kids' extracurricular activities, time is really at a premium right now. Some weeks, I barely have time to go to the grocery store. Then I discovered
Curbside Express from Giant Eagle
. There's a Giant Eagle just 5 minutes from where my son's therapy is once a week, so I've been ordering my groceries in the evening when it's convenient and stopping by to pick them up on the way home. With all of the time I'm saving, I thought I could spend the hour that I would have been at the store pampering myself. Last week, I made a banana yogurt face mask recipe with my extra time. This week, I told the kids we could play a board game.
Curbside Express
is so easy to use. I went to the Giant Eagle website when I had the time (during my kids' karate class) and selected all of my groceries, including fresh produce and meat. Ordering online was easy to do.
Since meat is by the pound, they tell you the price per pound and a price range for that item. When you pick up your order, they adjust the price accordingly so you pay for what you get. For the bananas, I could buy it by the individual banana. Although my estimated total wasn't the exact total, it was very close so I could budget my money.
Click on the image below to be taken directly to a shopping page.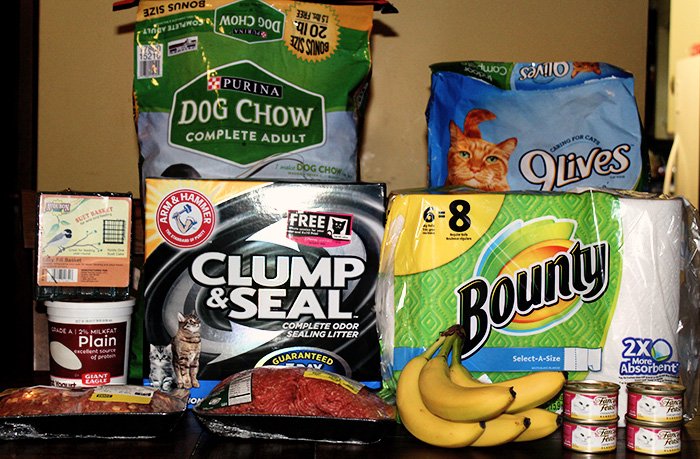 Then I selected a half hour window to pick up my items the next day. A personal shopper does your shopping for you, selecting fresh items just like you would do yourself.
When I got to Giant Eagle, I parked in the designated area and called the number on the sign. I gave them my name and car model, and someone brought out my groceries a few minutes later and loaded them into my car.
I was thankful for them loading it in my car because I got two big bags of pet food and a big box of cat litter. Yes, they will even load heavy or bulky items right in to your car!
Ready to try
Curbside Express
for yourself? The fee is waived for your first three orders!
Banana Yogurt Face Mask Recipe
I saved at least an hour by using Curbside Express this week. With everything going on the last two weeks, I decided to pamper myself a little bit with this banana yogurt face mask recipe. It's so easy to make with just three ingredients.

The banana moisturizes your skin and has potassium and vitamins that really help your skin look better.


1/2 banana, mashed
1/4 cup plain yogurt
1 teaspoon honey
Mash the banana with a fork until mostly smooth. This recipe works best with a ripe banana. Add the yogurt and honey and stir well.
Spread the mask all over your clean face, avoiding the eye area and mouth. This can get messy, so wear an old shirt or drape a towel over your shirt. Let sit for 15 minutes before rinsing with cool water. Pat dry and follow with your favorite moisturizer.