This easy to make gardener's hand soap is made with clay, ground almonds, and loofah to scrub away dirt and grime. It makes a great scrubbing hand soap for mechanics and anyone else who gets dirty while working or playing.
I said we were scaling back on the garden this year because it's a lot of work during the summer. My schedule isn't showing any signs of stopping, so something needs cut back.
Then we went shopping for plants and seeds. We ended up planting three of the four gardens this year. So if I'm not at the computer, I'm pulling weeds.
Unfortunately, it rained for most of June. I only managed to get 2 cucumbers this year because of the rain. We also lost several over plants and didn't get a great harvest.
All of the weeding has wrecked havoc on my hands and nails. I made a gardener's hand soap recipe to help loosen dirt and grime.
I enjoy taking care of my flowers at the house and while gardening in the vegetable garden isn't my favorite, it's very much worth it when I can pull a jar of home grown food off the shelf during the winter.
DIY GARDENER'S HAND SOAP WITH LOOFAH
We have a lot of clay in our soil. I do live in farm country after all. It's high in clay, which is great for plants, but it's not so great for my skin.
We have a huge garden. It's divided into four plots with grass in the middle to get the tractor and 4-wheeler through.
These are two of the gardens, or half of the area we have. We planted three of these plots.

My hands get stained green and brown from the plants and the soil. It's hard to scrub off, so I made this gardener's hand soap with loofah and melt and pour soap.

This is a fairly easy recipe to make since it uses a glycerin soap base. I added some things to give it a little extra scrubbing power and cut through the grease.
For more scrubbing powder, try my
gardener's hand scrub recipe
. It has Epsom salt and sugar to remove dirt and oil to nourish your hands.
More DIY melt and pour soap recipes:
MELT AND POUR SOAP
I used
Crafty Bubbles white melt and pour soap
to make this gardener's hand soap recipe. It's what I always use and have for years. It's only available from their catalog, but you can use any
melt and pour soap base
.
Since this does have additives that you want suspended in the soap, you can use a
suspension soap
. I do not use one. I let my soap cool to 125 degrees before pouring, but if you have that base, feel free to use it.
GROUND ALMONDS
I added some
ground almonds
for some extra scrubbing power in this DIY gardener's hand soap recipe. It's a gentle exfoliant and works very well in soap.
You could also use
ground pumice
. It scrubs better, but I am out of it, so I used the almonds.
BENTONITE CLAY
I added some
bentonite clay
because it helps exfoliate. It also boosts lather in soap, which I like in this gardener's hand soap recipe.
Bentonite clay can be tricky to add to melt and pour. I mix it with
glycerin
to make a paste and add it that way.
Be sure not to use a metal spoon or bowl when you're working with bentonite. It affects its ability to draw out toxins from your skin.
ESSENTIAL OILS
For this gardener's hand soap recipe, I wanted functional essential oils as well as those that smelled good together. I ended up using
lemon essential oil
,
peppermint essential oil
, and
tea tree oil
.
The lemon essential oil is a great degreaser. It helps lift dirt and oils to clean your skin. Peppermint essential oil is soothing on your skin.
Tea tree oil is naturally antimicrobial, so it helps kill germs. This is important if you get tiny cuts on your skin while gardening.
You could also use
lavender essential oil
in place of the peppermint. It's naturally antimicrobial, so it could replace both the peppermint and tea tree. It's gentle on your skin, too.
Orange essential oil
would also be a good substitute for the lemon. It also helps cut through grease and oil.
LOOFAH
Loofah comes from a tropical plant that's related to the cucumber. When the inside is dried, it forms a natural sponge like material that is a great natural exfoliator.
By putting it in the gardener's hand soap, it helps gently exfoliate without being too harsh. This makes it a lot more convenient to use, too.
You can buy a
piece of loofah
and make your own slices or buy
precut slices
if you'll be making a lot of these soaps.
GARDENER'S HAND SOAP INGREDIENTS
GARDENER'S HAND SOAP SUPPLIES
GARDENER'S HAND SOAP DIRECTIONS
Soak them in water to soften them. Set them aside while you cut the soap.
Melt the soap in 30 second intervals in the microwave. Stir at each interval.
Let your gardener's hand soap sit for a few hours until fully hardened. You can use your soap right away, but I think it lasts longer if it can sit for a few days to harden.
As with all soaps, if this sits in water, it will get soft and mushy. I use a soap dish to keep my soaps drier so they last longer.
I like the metal soap dishes because they are so easy to clean. Wood soap dishes can grow mold and get soft and fall apart.
My metal soap dish is easy to clean with just water and a disposable antibacterial wipe, and it looks brand new after about three years of daily use.
I hope you enjoy this DIY gardener's hand soap recipe with loofah and melt and pour soap!
diy, soap, clay, loofah
Yield:
4 4-ounce bars
Estimated cost: $10
Gardener's Hand Soap
prep time: 15 M
perform time: 1 hour
total time: 1 H & 15 M
This gardener's hand soap recipe is easy to make with melt and pour soap and loofah. It has essential oils, clay, and ground almonds to gently remove dirt and oils.
tools:
steps:
Cut 1 to 1.5 inch slices of loofah to fit your mold.
Soak them in water to soften them. Set them aside while you cut the soap.
Cut 1 pound of melt and pour soap into small chunks about 1 inch cubes. Place in 4-cup Pyrex measuring cup or glass bowl to melt.
Melt the soap in 30 second intervals in the microwave. Stir at each interval.
Remove the loofah slices from the water and squeeze them dry. Place them in the round soap mold.
Mix the clay with just enough glycerin to make a paste. Add that and the nut powder to the soap. Stir well. Add the essential oils when the temperature is below 160 degrees and stir.
Let the soap cool to 125 degrees so the nuts and clay stay suspended. Carefully pour the soap over the loofahs. I started in the middle and moved outwards.
Recommended Products: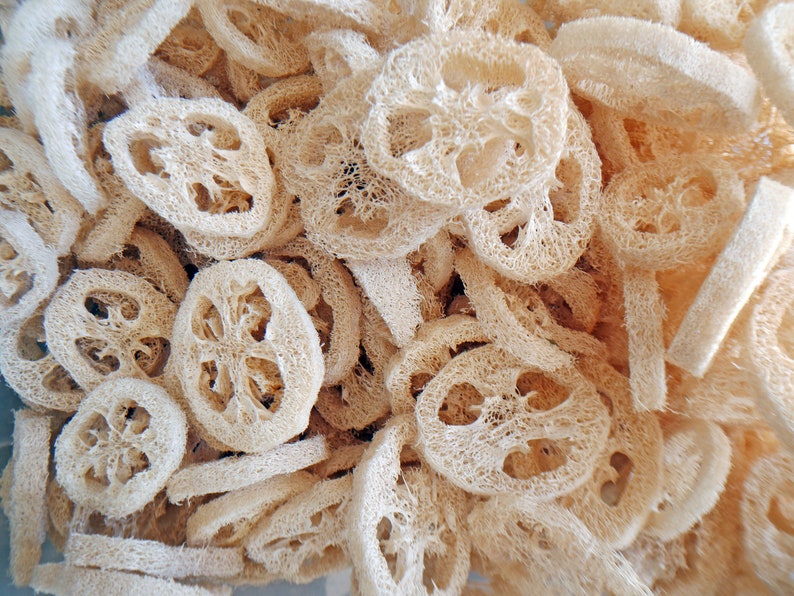 Loofah Slices
Crafter's Choice Mold
Ground Almonds
Copyright © Everything Pretty 2019. All rights reserved.
Like this post? Pin it!