Do you use a cold cream? I'll admit that I never did until I came across this easy cold cream recipe. Honestly, I wasn't even sure what a cold cream was. It's a thick cream made with fats that keeps your skin soft and looking great. It also makes a wonderful makeup remover for thick makeup, like the kind you would wear on stage. I also discovered that this recipe makes an excellent foot cream. It really softens the dead skin and helps smooth rough heels.
This recipe calls for solid vegetable shortening. You could substitute organic coconut oil if you wanted an organic product. You'll get almost the same results, but it might be a little hard in the jar. I only have a problem with my coconut oil getting too hard in the winter, but it warms to the touch to get it out of the container.
Some of the links below may be affiliate links. You pay the regular price, and I earn a small commission. This helps me build my blog and offer even more great recipes. Thanks for supporting Everything Pretty!
DIY Cold Cream Recipe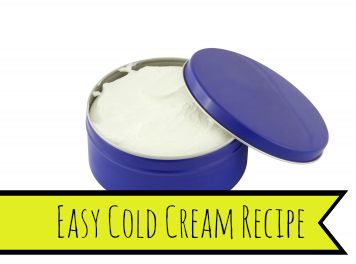 What You Need
Directions
In a double boiler, slowly heat the jojoba oil and shortening until melted.
Remove from head and let cool for 10 minutes. Add essential oil. Stir slowly with wooden spoon.
Pour in to glass jars and let cool. It can take up to 2 hours to cool completely. You can put it in the fridge to speed it up a little bit.
No need to store this in the fridge because there's no water in the recipe. Use within 6 months.
To use, spread it on your face and neck with a soft cotton cloth or your fingers. You'll use about 1 teaspoon for each application. Let sit for several minutes and rinse. Many women do this before bed so the oil stay on the skin all night.
If you're an avid reader, you'll remember how we discussed that oil dissolves oil in the
oil cleansing method
post. Adding oil to your skin also stops your body from producing excess oil. For me, it took a few days of oily skin for my body to naturally adjust itself.
Have fun creating! If you try this recipe, I'd love to hear about it in the comments. Please share this recipe with your friends on Pinterest, G+, Facebook, and Twitter.
Photo by Keerati via freedigitalphotos.net