My skin has always been oily, so I scoffed the first time I heard of the oil cleansing method. I can't take the
oil
off of my face with
oil
!
Or can I?
While my acne wasn't as bad as some other teenager's, I did have some breakouts. I shudder now to think what I put on my face. First, I started with a harsh chemical filled cleanser, followed by an alcohol astringent, medicated spot treatments, and finally some clean moisturizer. Really, it's amazing my skin wasn't red, splotchy, and broken out all the time.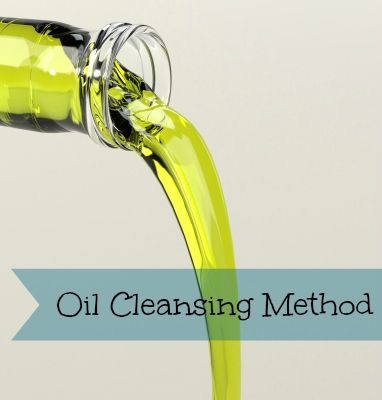 How it Works
You probably know that oil and water don't mix. That's why you use a soap, or detergent, to break up the oil so you can wash it away. But the problem is that these soaps strip all of the oil off of your face, which makes your skin dry.
So your skin produces even more oil. Which means your skin gets even more oil. So you scrub it more. And produce more oil. Do you see where I'm going here?
The oil cleansing method for acne works because oil dissolves oil. Yes, it really is that easy to get rid of the excess oil. Another bonus? Oil works very well at taking off makeup.
Which Oils Should You Use?
Olive oil and castor oil are the most popular oils to use for the oil cleansing method. Look for an organic olive oil at your local grocery store, and you can get
castor oil
online.
There's some controversy about castor oil, but you can substitute it with
sweet almond oil
for oily skin,
jojoba oil
for acne, or
avocado oil
,
or
apricot kernel oil
for dry skin.
Here's how to mix your oils:
Dry skin: 3 parts olive oil to 1 part castor oil, or its substitute
Combination skin or normal skin: Equal parts castor oil, or its substitute
Oily skin: 1 part olive oil to 3 parts castor oil, or its substitute
Some people really like the oil cleansing method with just coconut oil. Other people find that it can be too oily and clog pores.
Oil Cleansing Method
Pour a quarter size drop of oil blend in the palm of your hand.
Rub hands together to warm oil.
Use both hands to gently massage oil on your face, avoiding the eyes and lips. Massage your skin for at least two minutes.
Wet a wash cloth with very hot water and wring it out. Place it over your face and let sit to remove impurities and help the oil dissolve the dirt and oil on your face. Let sit for a minute.
Use the washcloth to wipe away excess oil.
There will be a thin layer of oil on your skin when you are done, but this will help protect your skin.
You do not need to moisturize after the oil cleansing method.
You don't have to do this every day. Most women do this once a week and use their regular cleanser the other days. Some women do this every other day and don't use any cleanser on the other days. It just depends on your skin and needs. Just do what works for you.
Have you ever tried the oil cleansing method for acne or for oily skin?
Photo via Idea Go / freedigitalphotos.net