That Time We Made A Free Library

This post may contain affiliate links.
This shop has been compensated by Collective Bias, Inc. and its advertiser. All opinions are mine alone. #MyLiteracyStory #DGMyStoryEntry #CollectiveBias
When people ask me what I do for a living, I say that I'm a wordsmith, so it's probably no surprise that I love to read. My mom taught me to read when I was four-years-old, and I haven't stopped since. I started reading to my oldest when I was pregnant with him. We read several stories a night for the first six years of his life. I did the same with my younger two children. Having them sit on my lap while reading book after book are my fondest memories of when they were little. Today, my kids are 10, 11, and 15, and they are all advanced readers. I can't say for sure, but I think all of those hours of reading helped them develop their reading skills and a love of reading.
We are the family who has to bring several bags to the library on our weekly trip because we can't carry all of our books by ourselves. Now we live outside of a town with a population of about 1,400 people, which isn't big enough to support a library.

So we made one.
Because I'm so passionate about reading and literacy, I'm proud to team up with Kellogg's, who is a sponsor of the
Dollar General Literacy Foundation
. Kellogg's employees work together every day towards enriching the world through brands and foods that matter.
Kellogg's has specially marked boxes of Kellogg's Frosted Flakes® Cereal, Kellogg's® Froot Loops®, Kellogg's Frosted Bite-Size Mini-Wheats® Cereal, and Kellogg's® Rice Krispies® Cereal at Dollar General. They also have a Cheez-It® Original crackers branded box. Hover over the image below to learn more.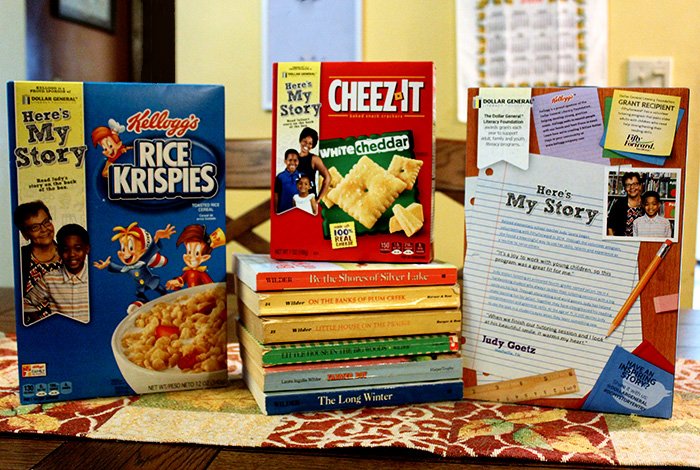 You can learn more about the Dollar General Literacy Foundation and enter the #DGMyStory Sweepstakes by sharing your personal literacy story with #DGMyStoryEntry. You could win a $50 Dollar General gift card!
For more than 20 years, the
Dollar General Literacy Foundation
has been helping people learn to read, learn English, or prepare for their GED. They've awarded more than $140 million to schools and nonprofits to help more than 9 million people!
Just like Dollar General and Kellogg's, we saw a need in our community. We live too far from a library, and there isn't any public transportation in the county. My kids and I set up a free library in our local community center, which is a nonprofit that helps children and families in the community.
My family had a lot of books to donate because they were too young for my kids or they'd read them already, but we didn't have enough to start a free library. Local churches and individuals also donated. It's been so popular that we need to start another bookshelf just for books for adults.
I'm so proud of my kids for helping set up our town's free library. They are also able to get some use out of it because there are new books added weekly.
Learn more about the enter the #DGMyStory Sweepstakes and share your personal literacy story!
Like this post? Pin it!