Free Prioritized Task List Printable for College Students

This post may contain affiliate links.
This shop has been compensated by Collective Bias, Inc. and its advertiser. All opinions are mine alone. #MyGo2Pen #CollectiveBias
I have some exciting news that I haven't shared yet on my blog or public social media accounts. As many of you know, I homeschool my three children. My oldest, 15 and an incoming sophomore, had the opportunity to start college a few years early. We live in the middle of nowhere, but we are fortunate that there is a small branch of a good university less than 5 miles away. He was accepted, so he's officially starting college next month. I know that he will do fine academically, but I worry about his organizational skills. Not only has he not been in public school since 5th grade, but he also has autism. He has trouble staying organized and can't prioritize his time well. He is doing a lot better, but he still needs help, so I made this printable for him to prioritize his time and get his tasks done.
We don't have to buy as many things as we did when the kids were in public school, but we do still take advantage of the sales to stock up. We go through a lot of dry erase markers, paper, and pens. I'm picky when it comes to my pens; I only use
Pilot G2 pens
. To get yours now, click the image below to be taken to a shopping page.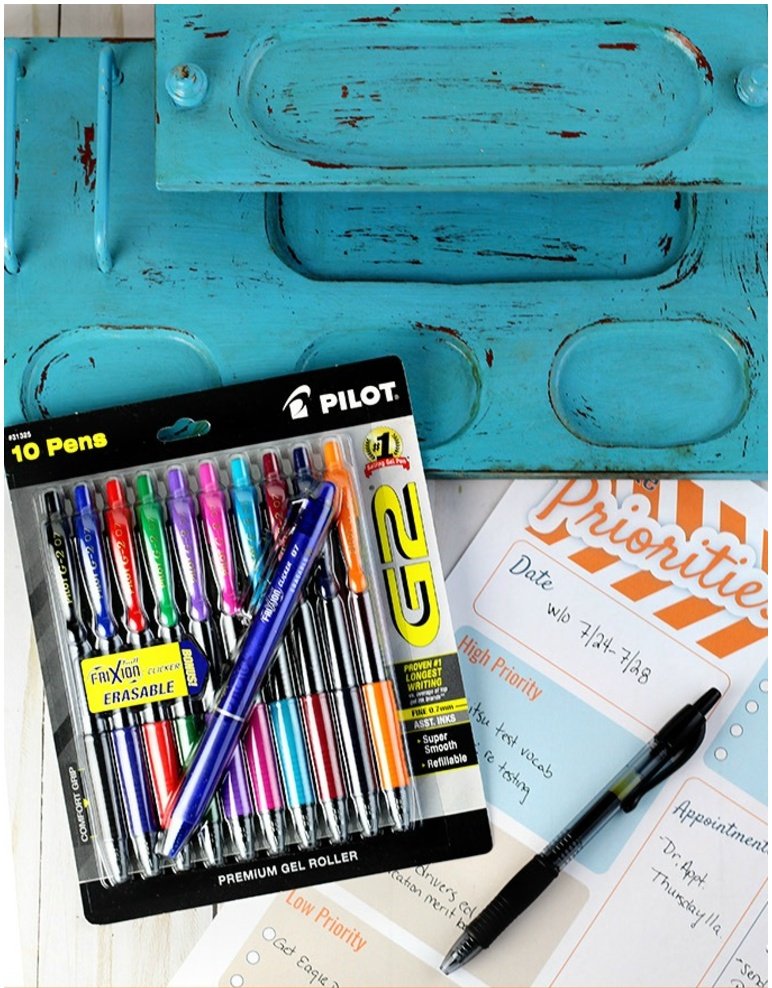 I always have my planner with me, and I write everything down. I keep a G2 pen in my pen holder on the cover of my planner because when I need a pen, I need it to work. There's a reason that G2 is the #1 selling gel ink pen in America. Because it's smooth, comfortable, and they last longer than other pens. Since they are available in 20 colors and four point sizes, I have different colors and sizes for different uses. When I'm writing in my planner with my G2 pens, I feel like I am on top of my schedule, like I can tackle my to do list and get everyone to their respective place on time.
Right now, you can also save with this printable coupon! Click the image to print yours now.
Prioritized Task List Printable for College Students
My son needed a few supplies for college, so I picked him up a pack of
Pilot G2 pens
in assorted colors so he could use his new prioritized task list printable. Due to his autism, my son has problems starting and finishing tasks. It's hard for him to prioritize his time, so he will spend hours on something that can be put off and not finish an important task. This is something that we have been working on for several years, and he is gaining this skill.
I created this printable for him for two reasons. First, it's visual. He can see at a glance what is important and what is not. There's no extra information on it to distract him or overwhelm him.
Secondly, I can help him create his list and decide what should go where. Eventually, he will be able to do this by himself. In the meantime, with my help creating the list, he can then work on his tasks in order of importance independently.
CLICK HERE FOR YOUR FREE PRINTABLE
Whether you're organized or not, a college student or an adult, everyone can benefit from this printable. I use a version of this printable every week to help me stay on track and get things done that need to get done. I created this prioritized task list printable so it can be used daily or weekly, so you can use it in a way that is best for you.