A few weeks ago, I made the switch from Feedburner to Mad Mimi for my email list. I wanted to offer a RSS feed option for my readers and send the occasional newsletter. Mad Mimi and Mail Chimp offer many of the same features, but I thought Mad Mimi would grow with my blog better. It's very easy to use, but I did have some problems offering daily and weekly options. I know some of my readers are having problems too because they've asked, so I'll show you how to get it set up.
How to Set Up Daily and Weekly Emails With Mad Mimi
After you log in, click on RSS on the right side.
Click on Add A Feed and enter your feed URL. Directions for Blogger and Wordpress. I can't vouch for these links, but the Blogger one worked for me. Put the feed URL in your browser. You should see a very long list of seemingly random text.
This first feed will be your daily feed. Set it up to send emails once a day at a specific time. You'll want to title it with Blog Name Daily so you don't get confused later.
This is the point where I had trouble. Mad Mimi will only let you import a single RSS feed one time. The workaround is to add "?2" to the end of the RSS feed URL. Mad Mimi thinks that it's a new feed, but it still reads exactly the same as it would without it. Set this one up to send emails once a week and title it Blog Name Weekly.
Now it's time to set up your web form.
Go to your dashboard and click on Webform. Then click on Add Webform.
Now click on Add a List to add both your daily and weekly email lists and save it.
That's it! It sounds so easy, but I spend a week trying to figure this out. I couldn't find any tutorials on how to do this, so I'm passing it along so other bloggers can get some help.
This is how my
newsletter page
looks now. The widget didn't look right on my sidebar, but you could size it for your sidebar.
Want to sign up for Mad Mimi? Please use my affiliate link. Have any questions or want another blogging tutorial? Leave a comment or email me!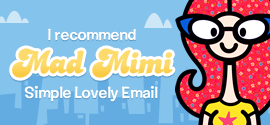 Get posts delivered to your inbox daily or weekly. Subscribe now!